Breakable Sticker Without Die Cut
What is Breakable Sticker?
Breakable sticker, which also well-known as Destructive& Warantty Sticker, equipped with a good security feature, These labels are meant to safeguard your brand against tampering and counterfeiting.
Break apart into small pieces when removal is attempted.
Come with a powerful adhesive that sticks to most surfaces.
100% Water resistance.
Wide variety of shapes and sizes
Supply on sheets.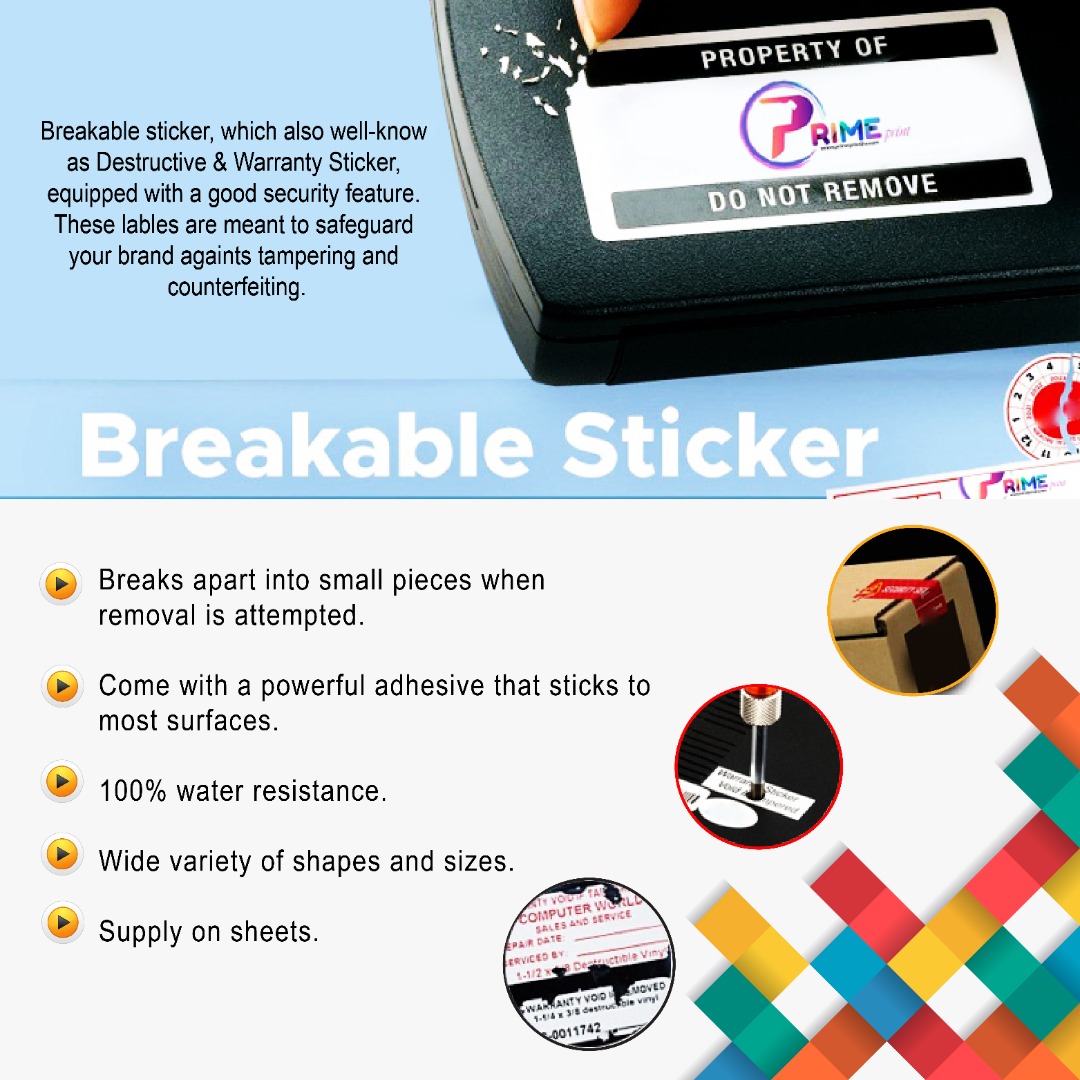 Additional Information
Saiz:
1up (90mm x 54mm)
2up (108mm x 90mm)
3up (90mm x 162mm)
4up (108mm x 180mm)
Print Side: Single sided
Print Color: Full Color
Quantity: 50, 100, 200, 300, 400, 500, 1000, 1500, 2000, 2500, 3000, 3500, 4000, 4500, 5000, 5500, 6000, 6500, 7000, 7500, 8000, 8500, 9000, 9500, 10000.
Printing Time: 4 - 5 Working Days
How to Place Order
Choose saiz required eg: "90mm x 54mm"
Choose quantity required eg: "50"
Choose your total set required eg: total 2 design required to print, choose Set "2", otherwise choose set "1"
Click "Buy Now" for checkout process or you may "Add to Cart"
Fill-up Shipping / Delivery Address
Choose your Shipping method
Choose your Payment method (eg: Online transfer, Credit Card, e-Wallet)
Click on "Place order Now" and proceed for online Payment
How to Attach your Artwork
Once place order
Click "My Account"
Click on order number recently place (eg: #1196)
Scroll down and click on "Choose File"
Choose file that you wanted to attach and click "Attach" (File can accept png, jpeg, jpg, and pdf)
and Click "upload" and Save"
Alternate you may appoint us to design your mirrorkote sticker design. please click on link HERE for more details
Alternate you may send your artwork to our email at [email protected] by indicate your order number in subject. (File can accept png, jpeg, jpg,pdf and ai)
For more information, please feel free to contact us at [email protected] or whats'up us at +60174534068 https://www.wasap.my/+60174534068 we are waiting to serve you.