Synthetic Sticker Without Die Cut
What is Synthectic Sticker?
Synthetic papers are specially treated plastic films designed to be used by most printing processes. Synthetic paper labels are matte white, high opacity polypropylene film which features good strength and durability as well as good moisture and chemical synthesis paper labels, white synthetic paper labels, white synthetic paper thermal transfer labels and custom printed synthetic paper labels.
resistance.

Cosmetic Bottle Labels
Danger Warning Labels
Wine Labels
Electronic Products Labels

The synthetic face stock can be recycled and reused, and causes no harmful material or pollution to the environment. Special formulated top coating is suitable for printing with various types of ink.
Synthetic paper labels applications
Synthetic paper labels are waterproof, weatherproof, durability and tear strength. Whether your application requires extended outdoor durability, chemical resistance or tear resistance, our synthetic paper label is your best choice. Such as durable and waterproof wine labels, cosmetic labels, food and beverage bottle labels, car stickers, bumper stickers, caution labels, PAT testing labels and other outdoor products.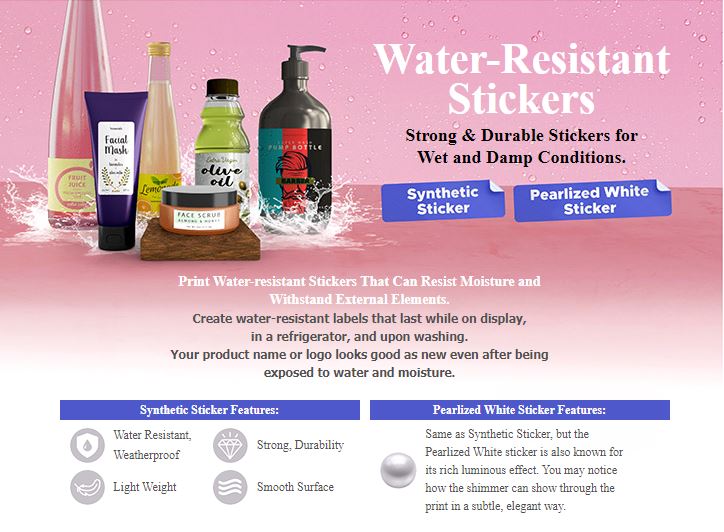 Additional Information
Saiz:
1up (54mm x 90mm)
2up (108mm x 90mm)
3up (90mm x 162mm)
4up (108mm x 180mm)
Print Side: Single sided
Print Color: Full Color
Quantity: 50, 100, 200, 300, 400, 500, 1000, 1500, 2000, 2500, 3000, 3500, 4000, 4500, 5000, 5500, 6000, 6500, 7000, 7500, 8000, 8500, 9000, 9500, 10000.
Printing Time: 4 - 5 Working Days
How to Place Order
Choose saiz required eg: "90mm x 54mm"
Choose quantity required eg: "50"
Choose your total set required eg: total 2 design required to print, choose Set "2", otherwise choose set "1"
Click "Buy Now" for checkout process or you may "Add to Cart"
Fill-up Shipping / Delivery Address
Choose your Shipping method
Choose your Payment method (eg: Online transfer, Credit Card, e-Wallet)
Click on "Place order Now" and proceed for online Payment
How to Attach your Artwork
Once place order
Click "My Account"
Click on order number recently place (eg: #1196)
Scroll down and click on "Choose File"
Choose file that you wanted to attach and click "Attach" (File can accept png, jpeg, jpg, and pdf)
and Click "upload" and Save"
Alternate you may appoint us to design your mirrorkote sticker design. please click on link HERE for more details
Alternate you may send your artwork to our email at [email protected] by indicate your order number in subject. (File can accept png, jpeg, jpg,pdf and ai)
For more information, please feel free to contact us at [email protected] or whats'up us at +60174534068 https://www.wasap.my/+60174534068 we are waiting to serve you.